The Upper GI Surgery specialist practice has been established over 17 years in Sydney with our main base located in Kogarah and other clinics in Wollongong, the Eastern Suburbs of Sydney and Orange. We are a welcoming and committed team comprised of specialist surgeons, physicians, nurses, dietician, psychologist and admin support staff, making sure you are in the best hands for the duration of your treatment with us and the crucial aftercare period.
We have a focused interest in managing disorders of the oesophagus, stomach, pancreas and biliary tree as well as helping patients with abdominal wall hernias. We are able to offer Australia's widest range of options for diagnosis and management of a number of conditions in the upper gut – experienced in diagnosis of complex conditions, diagnostic and therapeutic endoscopy, keyhole, robotic and open surgery.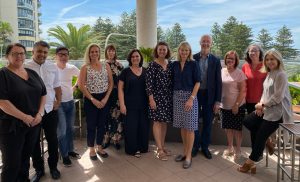 Our bariatric surgery experience is second to none and we have Australian leading experience in many procedures including the less commonly performed complex revision and robotic surgery. We are an accredited Centre of Excellence in Bariatric Surgery with our leading surgeon Associate Professor Michael Talbot holding the Surgeon of Excellence accreditation. Our bariatric procedures include gastric banding, gastric bypass, sleeve gastrectomy, re-operation for recurrent weight problems and correction of surgical complications. We are experts in weight loss surgery and the necessary aftercare, so you can feel confident when choosing us.
As well as being a pioneer in bariatric surgery, we are also leaders in Upper GI oncology diagnosis and surgery such as oesophageal cancer, pancreatic cancer, gastric cancer and more, with many of these procedures able to be performed endoscopically or laparoscopically. We also specialise in other areas of Upper GI such as reflux, hernias and gallstones, providing innovative and effective treatment for our patients.
For more information on any of the services that we provide, or to book an appointment to discuss your individual needs, please feel free to give us a call on 02 9553 1120 or fill out our easy online contact form and one of our team will be in touch with you soon. If you would like more information about our support team you can find out more by clicking here or find out more about Our Doctors who would be responsible for your care with us.